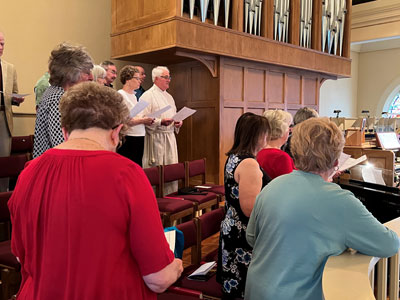 The First Lutheran Church PROCLAIM! is a volunteer group of about twenty singers. This choir rehearses each Wednesday afternoon during the church program year (September - May), and sings each week at the 9:00 a.m. Sunday worship service. The choir also provides special music for Reformation Sunday, Christmas Eve, Ash Wednesday, and the Good Friday Tenebrae. All interested singers are invited to join! The Quad-City Brass Quintet and Timpani join us each year for the festival services of Easter and Reformation.
First Lutheran Church is blessed with a talented Handbell Choir. The Heritage Ringers rehearse Wednesday afternoons, September - May, and play at various worship services throughout the Church Year.
First Lutheran is also a popular site for concerts and visiting artists.
If you are interested in becoming a part of the Music Ministry of First Lutheran Church, please contact Steve Steely, Minister of Music, at 309-764-3517, or 309-762-3375
Our mission is to worship God, to serve others, to support one another,
and to invite all people to share in this Christian ministry.