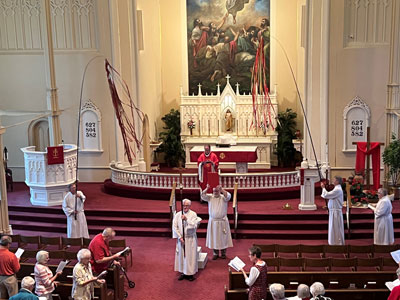 Worship at First Lutheran is characterized as Faithful, Liturgical, and Beautiful.
Every Sunday at 9:00 a.m., we gather in a manner of fresh but traditional worship to hear God's Word, sing our praise, give thanks for life, confess our sin, eat at the Lord's table, and to be sent out for ministry in the world.
Each week there is space in worship to be both communal and introspective. The sermons reflect a practical Lutheran theology, the liturgy is informed by the classics of the Church, and the peoples' song is led by a twenty person choir and pipe organ.
The last Sunday of each month a Service of Healing is included in our worship service. We believe in healing in a holistic way, understanding that many of us are in need of healing in body, mind and spirit.
Our mission is to worship God, to serve others, to support one another,
and to invite all people to share in this Christian ministry.